A Note from Rev. Dr. Kathy
Wherever you are on your spiritual journey, you are welcome here at Unity of Garden Park.
Truly, you are honored right where you are and I am here to remind you of the light that you are in this world !!
A dear friend gave me a plaque that states "I Teach What's Your Super Power" and I believe that is true about me. We all need someone to remind us of the "Super Power" that resides in each of us and to help us bring that power forth into this world.
You are a perfect child of the Creator — that never changes!
You are loved just the way you are and I look forward to meeting you someday soon !
Blessings,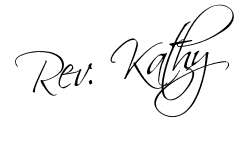 Meet Rev. Dr. Kathy
Our Minister
If you have attended any service or event at Unity Of Garden Park in the past 30+ years, you will likely recognize Rev. Dr. Kathy.  She has been inspiring and motivating people for over 30 years to become better versions of themselves. 
Rev. Dr. Kathy is an ordained Unity and an Interfaith minister.  She received a Doctorate of Divinity from Emerson Institute in 2022.  The gifts Rev. Dr. Kathy brings to our congregation include:
Connecting

with diverse groups of people as a result of owning her own restaurant for 30 years.

Leading our growing, thriving Spiritual community as its CEO for over 10 years.

Continuing to grow and learn through numerous personal development programs:
 Mary Morrissey's Dream Builders 

Life Success Seminars 

Toast Masters

Landmark Forum

Freedom 101

Meta Model Leadership Training through CSL (Center for Spiritual Living)

Martha Creek's Immersion Group (Byron Katie's "The Work")

Attended seminars facilitated by Gregg Braden, Bruce Lipton, PH.D., Dr. Joe Dispenza and Rev. Dr. Michael Beckworth

Continues to receive counseling from her minister mentors
Stop by the church and say hello to Rev. Dr. Kathy!  You'll be glad you did.
Click here to email Reverend Kathy directly