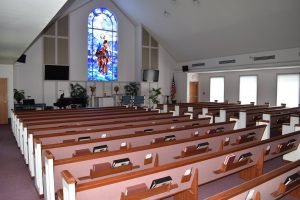 We have moved back into the sanctuary for Sunday services!
Here are our guidelines for joining us in person:
Be prepared that we still will be following a mandate of wearing masks and following 6′ social distancing……and no hugging (….yet)!
 There will be ushers to seat one group at a time, as well as ushers will EXIT everyone after service!
Restrooms will be opened for one person at a time
Gift shop/bookstore will not be open YET!
Fellowship Hall will be used only if overflow is needed, and service broadcasted on the television downstairs.
Singing will be allowed with masks on.
PLEASE ADHERE TO THE ABOVE GUIDELINES, SO THAT WE CAN KEEP OUR SANCTUARY OPEN ON SUNDAY. WE WANT EVERYONE TO FEEL SAFE AND COMFORTABLE BEING IN THEIR SPIRITUAL HOME!!!
Blessings and gratitude for all you do for Garden Park!
---
March 12, 2020
Dear beloved congregants at Unity of Garden Park,
The Gov. of the State of Ohio has ordered a ban on gatherings of over 100 people in a single room or a single space. As of right now churches are excluded from this ban.
We have been receiving a large amount of calls, texts and emails with people wanting to know where we stand on the situation. As your spiritual leader, my first response is prayer. I have been holding space for Spirit to guide us with the best direction to navigate the perception of panic throughout our news sources and social media. I urge all of us to not get hooked ( like I did this morning for a few hours) into the fear that is screaming loudly. Students of Unity know the Truth and we stand by our 5 principles:
1. God is absolute good, everywhere present
2. All of us have a spark of Divinity within us, the Christ spirit within. Our very essence is of God, and therefore we are also inherently good.
3. We create our experiences by the activity of their thinking. Everything in the manifest realm has its beginning in thought. ( in other words "thoughts in mind produce after their kind)
4. Prayer is creative thinking that heightens the connection with God-mind and therefore brings forth wisdom, HEALING, prosperity and everything good.
5. Knowing and understanding the laws of life, also called Truth, are not enough. I must also LIVE the Truth that I know.
We know that God is everywhere present… EVERYWHERE, all knowing and all powerful. We are a part of that Divine Presence – God, so therefore we are born as perfect children of God.
THIS PART IS IMPORTANT… What we think about we bring about… we sing it every Sunday Our Thoughts Are Prayers. I am encouraging you to be aware of your thoughts… If they are bringing you pain/fear… STOP and choose another thought… Move to GRATITUDE for what is going good in your life… there is always something… Hold on to that positive vibration!
PRAY… Not a begging prayer… PRAY Affirmatively. Knowing Divine Order is always taking place… even when we cannot see it with our physical eyes…
Now LIVE this Truth that you know… And that TRUTH WILL SET YOU FREE!
As you know, we are in a situation none of us have ever been in before and things are changing day by day.
We are seeing some churches close for Sunday service, while others are choosing to stay open. We have decided to stay open for this Sunday's service and then see how next week presents itself.
HERE'S HOW IT WILL WORK THIS SUNDAY:
Ushers will be greeting and distributing bulletins with a smile and a bow (NO TOUCHING PLEASE)
Let's try to practice Social Distancing — the 3-5 ft. rule
Service will begin and move through as normal ( WITH EXCEPTION OF GREET YOUR NEIGHBOR — GIVE A NAMASTE' ONLY )
Peace Song….. Hands in the AIR!
Fellowship will serve ONLY coffee and tea — if you want to brown bag your own lunch please feel free to do so.
The Prophet Mohammad said "Trust in God, but tie your camel"
There is a thing called spiritual malpractice. That is when we Trust God and don't tie up our camel. God has given us hands and feet and a brain to USE.
Therefore BE SMART and take these precautions:
If you are feeling sick or think you may have been exposed STAY HOME AND TAKE CARE OF YOURSELF. Call us and let us know so that the chaplains, Rev Tom, the board and I can support you.
Wash your hands constantly and with soap. Use sanitizer when available.
Avoid touching your face. Remember to cough into your elbow… NOT in your hand.
Avoid water fountains. Carry your own travel mug.
Social Distance… this is just smart. Keep at least 3 ft from other people. Refrain from hugging or handshakes. (do you know how hard that is for me) Cross your arms and bow… They will get the hint and gesture in like to you.
If you have an already compromised health condition, please – please stay home.
The board and I met prayerfully and this letter is sent with so much love and gratitude for all of you traveling this spiritual journey. Community is so important and we can continue being with our community whether you are physically in the pews or you can choose to listen to our podcast from FB or our website unityofgardenpark.org. We will also make an effort to have someone use their iPhone to possibly do FB LIVE during the service.
IT IS IMPORTANT THAT WE SPIRITUAL SEEKERS STAY CONNECTED ONE WAY OR ANOTHER. Unity of Garden Park is here for you.
Know that you are loved as the perfect child of God that you are.
Pray and meditate more… This actually improves your immune system!
Blessings and AIR hugs,
Rev Kathy Engelhardt – Minister
Kathy Mountain – Board President
Adam Medley – Vice President
Joe Higgins – Treasurer
Joyce DeVoge – Secretary
Michele DeCresce – Board Trustee
Kim Lee – Board Trustee